Feb 8 2017
So I after dabbling for long enough I decided to give Internet Marketing a proper go in 2017.  There are heaps and heap of courses and methods out there, but this new (as of Feb 2017) one Growii caught my eye.  A quick skim of the sales page, (who reads all that?) and I was ready to put my hard earned dollars on the table.
At the time of writing the Growii course is available for $27 (USD). There are a couple of upsells which I ignored. For those who don't know an upset is some additional items the the course seller offers you to make your life easier or boost your earnings.
Now I've bought some of these course in the past and have ended up with a six page pdf or some frankly terrible videos to watch. There was one I recall where the "guru" drew what resembled Egyptian hieroglyphics as they tried to explain where your websites visitors would come from. Not this course though, Stefan has delivered a comprehensive, informative and entertaining course with Growii.
Growii Course Content
The course is delivered via video, which I'm not always a fan of, and is broken down into four pages or modules.  In total there are 23 videos ranging from about 90 seconds to 15 minutes. None of the videos feel too long and all are informative. Stefan recaps important points at the end of key videos.
I will admit I didn't watch two of the videos, these were on the subjects of buying and setting up a domain and how to set-up WordPress.  These are helpful for beginners but also easy to skip like I did thanks to the way Stefan has laid out the course.  It took my two evenings to go through the videos and start implementing the system.  The videos themselves are to the point and Stefen speaks clearly and explains everything well.
There are a couple of points where Stefan realises he has forgotten something earlier and jumps back to explain correct himself.  Some of the tools recommended are Windows only and do have fees associated, but a web based option is also mentioned and the tools are not essential to making the system work.
So What's the Growii System?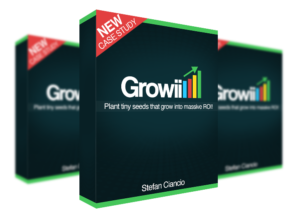 Well I'm not going to tell you that, it wouldn't be fair now would it?  I bought the Growii course two days ago and have already seen some revenue by implementing some of the system in just one video.  So far so good.   It does require or at least suggest for you to buy a domain name and hosting but does not require you to have any other ongoing costs aside from that.  Suffice it to say that the system appears to be comprehensive in it's process and should generate income, quite how much is still not clear. I will however report back later in the month to see how things have progressed.
Would I recommend buying Growii? Yes I would. Especially if you are new to Internet Marketing. I think it has the potential to generate the income Stefan talks about, maybe more, maybe less.  If you'd like to buy the course then please feel free to use the link below: ( This link currently does not make me any commission.)