Dec 31 2012
It's New Year's Eve (or Old Year's Night as my mother calls it!) and we're knocking on the door of 2013.  Residents and visitors alike are often disappointed at Perth's lack of major fireworks event to see in the new year.  Why is that?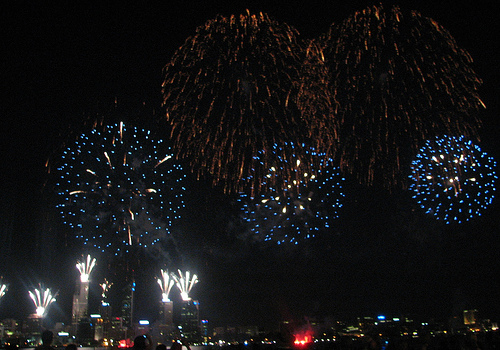 In the UK it's certainly not an expectation that every city has fireworks, London yes, but everywhere else?
Sydney of course has a major fireworks display which has become a tourist attraction in it's own right.  Of course Sydney isn't Australia's capital city, but it is certainly the iconic city of Australia.  TV stations around the globe will cut live to Sydney to see Australia welcome in the New Year.  Blazing fireworks on the Harbour Bridge, the Opera House, the crowds, it certainly is a television spectacle to behold.
Perth will never be able to carry off anything like this, nor should it try.  We don't have the landmarks, we don't have the status.
Melbourne can't compete either.
When we lived in Dubai we often wondered why Dubai didn't get television coverage on NYE.  Sure we had a huge fireworks display and iconic buildings too.  Only now is Dubai starting to gain international TV coverage for NYE, and probably because the local TV network put in the work to shoot the event and make it easily available to broadcasters.
So back to Perth.  A family orientated city.
If you want NYE fireworks, head to Mandurah, I'm sure there will be other local displays too.  There is a public event at the Northbridge plaza that promises to be family friendly.
Hang in there until the Skyworks Australia Day event – that's when Perth really does it's fireworks!